TRINITY WORLDWIDE TECHNOLOGIES
ESTABLISHED IN MARLBORO, NEW JERSEY IN 2002,
OUR CLIENT BASE HAS GROWN TO MORE THAN 150 BUSINESSES IN VARIOUS INDUSTRIES.
Our Mission
To give businesses the technology tools to work smarter, faster, and more effectively.
Our Vision
To become the technology provider of choice for businesses in the Mid-Atlantic region. We want business owners to choose Trinity because we are the best at making technology work for their business and because we treat all with whom we come into contact with in an ethical and respectful way.
CORE VALUES
Our success is underwritten by our unwavering commitment to the core values that drive us:
Integrity and Trust
We are committed to conducting all the affairs of our business honestly and to adhering to the highest standards of integrity.  Our words and our actions are one.  We will always deal with our clients and employees with dignity, honesty and respect.  We are direct, maintain confidences, meet commitments and accept responsibility for personal actions.  Our reputation is important to us.
Caring Relationships

The basis for our success is the care we extend to our clients and employees.  We apply insightful understanding to develop strong relationships.  We base our decisions on objective criteria designed to achieve the best long-term results for our clients' companies, customers, employees, and owners.  In addition, Trinity is committed to being a God honoring and family honoring employer.
Responsibility and Accountability

We accept responsibility for our work and hold ourselves accountable for producing desired outcomes in a timely, cost-effective, and professional manner.
Performance and Accuracy
Today's business world demands speed and accuracy.  We are extremely effective at understanding our clients' unique needs and delivering the most practical technical solution quickly, without sacrificing quality.
JOHN KALLI
Chief Executive Officer
More than thirty years of managing technology companies have given John Kalli a deep and broad understanding of how business works and how technology can help foster, sustain, and manage growth. He has run companies and organizations ranging from $3 million to $300 million including AGS Information Services, a division of NYNEX. Ten years of management consulting engagements placed him in principal roles in companies including Info Technologies, Pinkerton Computer Consultants, and Pyramid Consulting Services. John has special expertise in managing start-ups and acquisitions, effecting corporate turnarounds, performing strategic planning, and developing organizations.
When John decided to form Trinity with a group of like-minded colleagues, a motivating force was his desire to share his knowledge and experience in delivering productivity and profit improvement through prudent applications of technology to small businesses. Today, he is a very hands-on CEO. He provides the corporate governance Trinity needs to flourish and shares his knowledge, experience, and good will with our growing list of satisfied clients.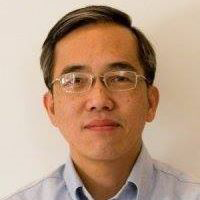 WILLIAM L. LAOHOO
Chief Technology Officer
William Laohoo has spent more than twenty years developing, implementing, and managing information technology at the team, division, and corporate level. Much of his industry experience prior to forming Trinity was in the publishing industry where he held senior management positions at companies such as American Express Publishing Corporation, Atlas Editions, and Macmillan, Inc. Because companies in this sector typically utilize mixed platform technology environments that use both PCs and Macs, William has exceptional knowledge and practical experience in a broad range of technologies. He is known for his ability to set technical standards, improve productivity and performance, build effective and harmonious teams, and to develop innovative technology solutions that map to real business needs.
A founding partner at Trinity, William has put his knowledge and experience to work for small business owners as he develops solutions that modernize their operations and solve their most perplexing business problems. As Chief Technology Officer, he keeps our clients abreast of the latest advances in e-mail, communications, web, fax, server, network and security technologies. As with all Trinity team members, William leaves no stone unturned to deliver all services and products in a manner that reflects the Godly values he espouses.